Help your Employees Stay Healthy & Productive
Keep your employees healthy and productive & reduce healthcare costs and absenteeism with our workplace mediation programs.
Healthier employees, better business outcomes
Try MantraCare Wellness Program free
"*" indicates required fields
Meet MantraCare  – The best Corporate Meditation at workplace program
We offer a unique and 100% online model for workplace meditation programs. Sessions and counseling for meditation are online, with regular virtual check-ins and teleconsultations.
Addresses the root cause
Many people are stressed at work. MantraCare employee meditation programs help employees reduce stress and stay healthy. Coaches provide virtual consultation to the patients whenever and wherever needed.
Customized Workplace Meditation Programs
MantraCare offers a variety of wellness initiatives, including meditation programs that are customized to meet the demands of each employee.
Holistic program
Self-awareness, self-improvement, and a variety of tools and techniques are all available through MantraCare for enhancing mindfulness. Our app has meditation exercises, methods, lessons, and communities to assist staff in developing emotional intelligence, improving mental health, and staying healthy.
What Is Workplace Meditation Program?
A workplace meditation program is a systematic and organized effort to reduce stress in the workplace. It can be used in almost any industry and at all levels of employment.
Employees who practice meditation on a regular basis benefit from the health advantages of meditation, including lowering stress, enhancing mental clarity, providing energy boosts, lowering blood pressure, and aiding in pain management.
Many common anxiety problems, such as panic attacks and social phobias, can be treated. This helps increase employee productivity because people feel more comfortable in their work environments.
Meditation has the potential to impact the bottom line by making employees healthier and happier. Meditation programs in the workplace are a win-win for all involved: Employees receive treatments that improve their lives, while employers see a reduction in absenteeism and an increase in productivity.
Tools & Techniques Used In MantraCare Corporate Wellness Programs
Ease of Use: MantraCare is an easy-to-use app, so employees can receive virtual sessions from their own homes.

100% Online: No need for you or your staff to drive or fly anywhere.

24 X 7 Availability: Employees can access the program anytime, any day of the year!

Affordable & Customizable: The cost of our program is affordable and customized as per industry norms.

Health Improvement & Cost Savings: Meditation has been scientifically proven to improve health and reduce stress levels by altering brainwaves which leads to a productive workforce with less stress and anxiety.
Thus, companies experience improved productivity leading to a reduction in healthcare costs and an increase in profits.
Benefits Of Corporate Wellness Programs
Reduced Absenteeism: Improved employee personal and mental health brings with it a reduction in employee absenteeism.

Enhanced Productivity: More efficient employees lead to increased productivity, which results in better business outcomes.

Employee Loyalty & Retention: Happy and healthy employees tend to be more loyal and committed to their employers. They are less likely to leave as long as they feel appreciated and supported by the organization. This increases company loyalty, potentially leading to lower recruitment costs over time.

Customer Satisfaction: A healthier workforce means happier customers who are less likely to complain about poor service or product quality!
Our clients have all had a strong return on investment on their employee health investment. We assisted them in creating healthier and more pleasurable workplaces, resulting in increased worker productivity, improved employee morale, reduced absenteeism, and higher retention.
Achieved Mindfulness
IT Company
Reported increase in productivity
FMCG Company
Saved in health care costs
Hospitality Company
100+ Companies across the World trust MantraCare
"People from all parts of the company have told us how useful MantraCare has been in reducing stress and practicing meditation. They have a highly motivated team with everything you need for mindfulness and meditation, including psychotherapy!"
Kevin, Vice President HR
Global IT Services Company
One stop Employee Wellness solution
MantraCare is comprehensive and affordable, and fits the bill for both large and small businesses.  With our 10+ employee wellness programs, MantraCare is the only corporate wellness benefit program you will ever need: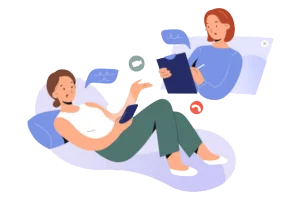 Online Therapy
Therapy  improves employee well-being by reducing stress and anxiety, developing more mindfulness, and promoting better sleep
Physical therapy
Physical therapy programs  alleviate common pains such as back pain or neck, with help of online physical therapist
Weight Control
Weight management programs specifically focus on helping employees achieve a healthy weight with a healthy body.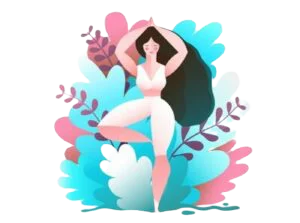 Yoga
Yoga & Fitness classes are a versatile tool that can address physical, mental, and social well-being. Encourage Yoga during the workday.
De-Addiction
Tobacco or Alcohol cessation programs can help nearly one out of every four employees get rid of unhealthy lifestyle
Hypertension
Given their significant impact on employee productivity and wellbeing, several companies have started hypertension programs.
Diabetes Reversal
Diabetes is a lifestyle disorder that can be cured via positive changes in diet and exercise routine. It affect over 25% of all workforce.
PCOS
Considering women make up nearly half of corporate workforce, it's important for employers to focus on women's health issues.
Meditation
Fitness classes do not necessarily need to be limited to physical fitness.  Guided meditation sessions are great ways to improve well-being.
Stepathon
Join The Movement For Movement Get Healthier, Happier & More Productive
Frequently Asked Questions